A new fantasy-adventure comedy film called The Portable Door will premiere exclusively on MGM+. Starting in April, you can watch the movie starring Sam Neill, Patrick Gibson, Christoph Waltz, and Sophie Wilde on MGM+.
The seven-book fantasy series by Tom Holt on which The Portable Door is based. Paul Carpenter (Gibson) and Sophie Pettingel (Wilde) play interns who get jobs at a shadowy London company called J.W. Wells & Co. During their time there, the two realize that their bosses are not the typical type. As the film progresses, Paul and Sophie learn the true goal of the multinational organization through its "charismatic villains," CEO Humphrey Wells (Waltz) and middle management Dennis Tanner (Neill). In addition to the four leads, Chris Pang, Rachel House, Jessica de Gouw, and Miranda Otto will also be featured in The Portable Door.
When production on The Portable Door was first announced in June of 2021, it was also revealed that Waltz and Neill would be joining the cast. The film is a joint effort by Sky Production, Story Bridge Films, and The Jim Henson Company. In addition to Chris Lytton, Lisa Henson is an executive producer for her father's company, The Jim Henson Company. Gary Hamilton, Brian Beckmann, Ying Ye, Ryan Hamilton of Arclight Films, Julia Stuart and Laura Grange of Sky, Cailah Scobie and Shana Levine of Stan serve as executive producers. Story Bridge's Todd Fellman and The Jim Henson Company's Blanca Lista are the producers.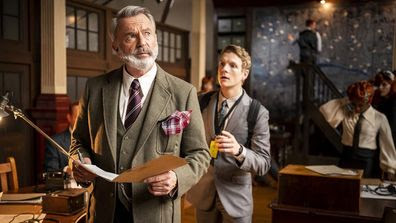 "The Portable Door is a fun young-adult action-adventure tale with a British sensibility," stated Michael Wright, head of MGM+. We are delighted to bring this pleasant picture to moviegoers, with its fantastic cast of excellent actors like Sam Neill, Christoph Waltz, Patrick Gibson, and many more.
Henson, who also saw the show, agreed, saying, "There is no better home for this wonderful and humorous adventure than on the renowned new MGM+."
The Portable Door allowed us to create the kind of unforgettable, thrilling world-building that is The Jim Henson Company's specialty, thanks to the brilliant comedic performances of our fantastic ensemble and the lush, high-fantasy environment. This new Henson creation, The Portable Door, will indeed become a smash hit.
MGM+, formerly known as EPIX before Amazon purchased the firm, is now streaming several additional major motion pictures from the studio, including The Portable Door. No Time to Die and House of Gucci are two examples of current MGM productions. The Portable Door still needs to be given a firm April release date.