At La Chapelle Bâton in the Deux-Sèvres department in western France, Mr. Michel-Jack Chasseuil welcomes his guest with a very rare 1893 straw wine worth about €10,000. He explains that when the grapes were pressed, the liquid collected resembled honey because the grapes had dried for a month or two on straw racks. 
Michel-Jack Chasseuil indicates that he does not only collect wine, but he also collected postage stamps, Roman coins or advertising blotters in his youth. At the age of 20, he decided to follow in his grandfather's footsteps and started collecting bottles of wine from his mother's cellar to build up a cellar of two hundred bottles. 
Rather than taking money from his parents' wallets, he preferred to help himself to bottles of wine from their cellar. He tells that at the time of the Algerian war, he managed to stay in France to train the new recruits and that he had twelve Martiniqueans in his room who had brought him rum. He went from being a wine collector to a collector of spirits and rum. After the army, he worked for the aircraft manufacturer Dassault where he was in charge of signing contracts with customers to buy the Rafale aircraft. 
He gives the example of South African customers who were assigned to him because he had lived in South Africa for three years and to whom he made wine tasting to facilitate the signing of contracts. Michel-Jack Chasseuil left Dassault in 1990, he invested in cases of wine at €30 a bottle, thinking that in 2025 at retirement age, he would be able to sell a case of wine from time to time to improve his income because, having left Dassault at the age of 47, he did not imagine that he would benefit from a large retirement. 
His investment has benefited from the evolution of the Internet since the 2000s, from the expert Robert Parker and from the general evolution of society, as the price of wine has risen sharply, sometimes by a factor of 100 and sometimes by a factor of 1000. The cases of vintage wine that he used to buy for €360 per case have risen to €30,000 per case in the space of ten years. 
He tells an anecdote from 1980 when an auctioneer called him to inform him that he had a bottle of Romanet-Conti 1945, the most expensive bottle in the world. He asked him if he was interested and offered the bottle for 15,000 Francs at the time, which represented about three months' salary. 
Michel-Jack Chasseuil finds the price a bit high but taking into account that the harvest was made during the war, the year is considered as the last harvest with a French vineyard and that there were only 600 bottles produced, he comes to the conclusion that it is a really rare bottle. He borrowed 3,000 Francs from his son, 5,000 Francs from a friend, 5,000 Francs from the bank and bought the bottle of Romanée-Conti 1945. 
Years later, he was called to tell him that he had been right because a bottle of Romanée-Conti 1945 was sold for 500.000 dollars. Michel-Jack Chasseuil's bottle is also worth 500,000 dollars. The glass in which the straw wine is served is a special glass to lock in the aroma, you have to turn the glass to release the aromas and aerate the wine. For the journalist present, drinking a 120-year-old wine is very rare and does not resemble drinking wine, but gives the impression of facing a very different technique than what one is used to drinking.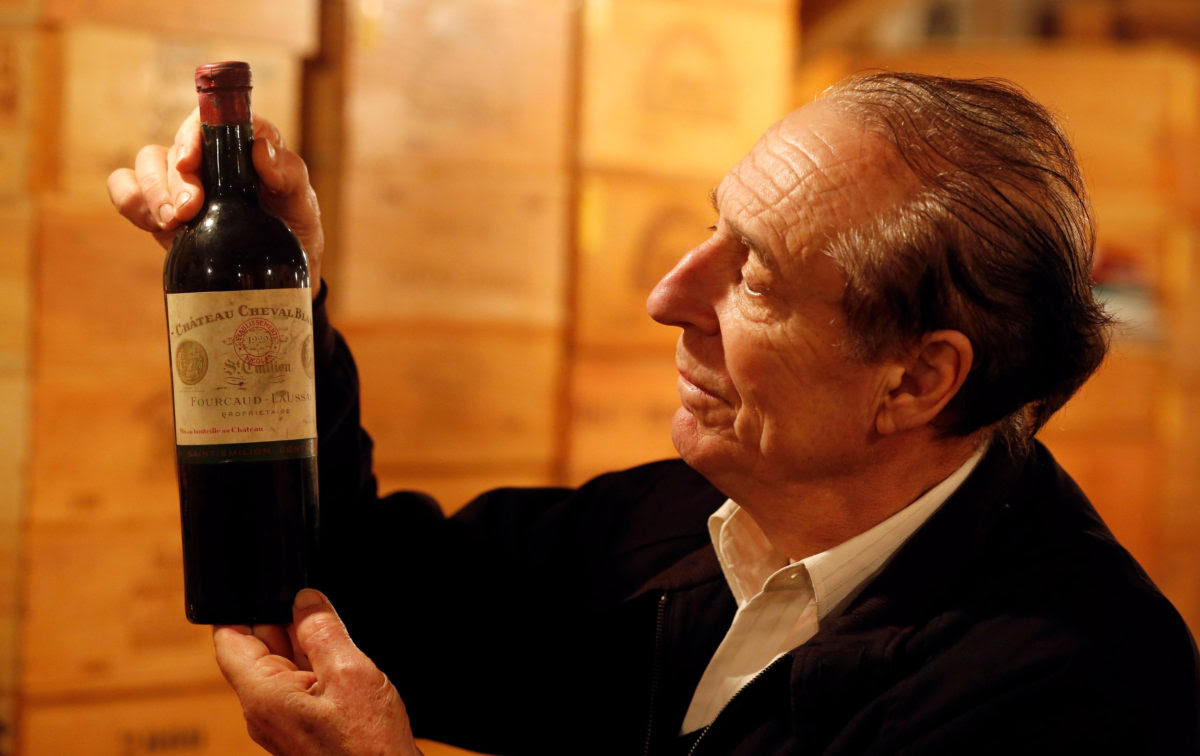 Michel-Jack Chasseuil's cellar is still largely untidy and will eventually include a cellar only for white wines, a second cellar only for magnums and a third only for boxed bottles. In the still untidy part, there are for example 3 bottles of Macallan whisky from 1938 bought after the collapse of the World Trade Center towers at 1.000 € a bottle, as well as a bottle of Château Yquem 1928 wine. For Michel-Jack Chasseuil, after having opened and drunk five or six bottles from his cellar, he no longer feels like drinking again, he prefers to look at the bottles. He likes to remind people who think that he has become an old person just good to go to a retirement home, that he is still there and that he should not be buried too soon. 
Continuing the tour of the cellar, he shows a bottle that belonged to Hitler's cellar. He explains that Hitler used to put his picture on the bottles and give them to his officers. Further on, the greatest white and red wines of France are lined up on shelves, such as the 1946, 1947, 1948, 1949 or 1950 vintages of Château Pétrus. Another room, which he says he put away in 150 days, contains only cases of red wines from the world's greatest winemakers. 
One finds for example all the wines Pomerol, Saint-Émilion. Ausone or Cheval Blanc, wines from Spain, Italy including wines from Tuscany and Piedmont. He also has wines from Australia with wines from Penfolds barns for example at 500 or 600 € a bottle. The last part of the cellar is dedicated to rare bottles, which he calls the sanctuary of rarities. 
He shows cases of Dom Perignon, Crystal Roederer, Chateau Latour, Chateau Margaux and cases containing Jeroboam and Imperial sized bottles, including Imperial from Chateau Petrus. One of the rarest pieces is a nearly unobtainable Methuselah bottle of Romanée-Conti worth $100,000. 
This bottle for example will never be drunk, he says it will become a relic and a work of art. He doesn't mind his bottles becoming relics and prefers to leave it to others to drink bottles of wine. Michel-Jack Chasseuil admits that he once had in his hands a check for 50 million euros from a Chinese client and says that when he was younger he could have asked for a Ford Mustang, girls, a boat or trips to Tahiti, but he preferred to give the check back, he says that not everything can be bought. 
In a sort of chest, he keeps an extremely rare bottle, a 100-year-old cognac, called the Cuvée d'Henri IV, accompanied by a Henri IV coin. In another small cabinet, he keeps bottles that Napoleon drank on St. Helena, wines from Constantia, South Africa and a bottle of Essencia Tokay, a Hungarian wine, acquired at auction in Drouot at a price of €10,000 per bottle. It is the rarest wine in the world according to him. He also shows the bottle of Romanée-Conti from 1945 that he owns and a Marie Brizard bottle from the Titanic, containing gold flakes. Finally, he opens for the first time a bottle of wine estimated at 2,000 € per bottle and ends with the cigar cabinet.