A year ago, Go Student laid off half its staff, as the Austrian start-up aims to integrate artificial intelligence into its tutoring and tutoring services.

The start-up has raised almost $95 million to integrate AI into its GoStudent© tutoring platform.
The edtech company GoStudent announced on Thursday that it had raised $95 million in funding. Go Student is present in 15 countries, including France, the UK and Austria, where it has been based since its launch in 2016, the start-up has created a tutoring and tutoring platform that connects teachers and students. A promising sector, coupled with ambitious development projects, which has recently attracted a number of investors.
On this occasion, the company's two co-founders approached Deutsche Bank, Left Lane Capital, DN Capital, Coatue and SoftBank Vision Fund 2. Felix Ohswald, CEO of GoStudent, tells L'Usine Digitale that the fundraising is a mix of equity and debt in "roughly equal" proportions, although he won't specify the exact amounts.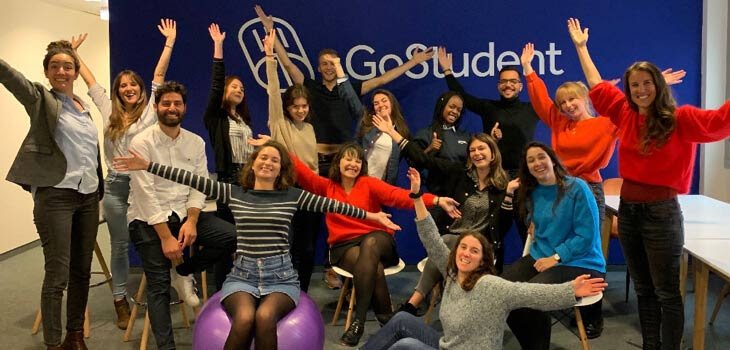 Two years ago, Go student raised $70 million, the main objectives of its management being to conquer new markets and modernize its services. This time around, Felix Ohswald cites the integration of artificial intelligence as one of the two major points of interest. According to a company estimate, the size of the global AI market in education will reach $10-20 billion in 2017.
The AI in question here will serve on two distinct levels. On the one hand, with Go Student employees who, through the services, will have tailor-made AI tools to improve their productivity and therefore the company's profitability. On the other hand, and this is undoubtedly the most ambitious project of Felix Ohswald and his partner Gregor Müller, generative AI will serve the educational process itself.
"We can provide teachers with tools that enable them to better prepare lessons, automatically grade exercises, and have AI-generated learning content personalized for children," explains the Austrian company's CEO. In addition to creating a time-saving lesson plan generator for teachers, Go Student's long-term aim is to use artificial intelligence to develop virtual teachers capable of teaching students in a personalized way.
The board decided that teaching cannot be entirely virtual. The second major project on which Go Student wants to focus its new funds is the hybridization of private tutoring: on the one hand, lessons delivered online by the 23,000 or so teachers listed on the platform, or in the future, virtual teachers; on the other, face-to-face classes in physical infrastructures that the start-up is currently devising.
The trial launch of this hybrid model will begin in Germany and Austria, where online and offline learning solutions will be offered to children and their parents. Face-to-face courses in groups or via GoVR, GoStudent's virtual reality language learning platform, will also be set up in physical spaces. "We need to think of these offline places as a social center where children can meet and learn together", comments Felix Ohswald, citing the example of Harvard University, with its online courses but also its central campus.
Clearly, it is necessary for the start-up to create its own places of learning. "In the future, we will have a physical infrastructure," continues the co-founder. No plans to build or acquire an existing building have been made at this stage, but Felix Ohswald says he is keen to look out for opportunities in countries that are important to GoStudent, such as France, the UK, Italy and Spain.
However, Germany and Austria, where the company started out, remain its core markets. They boast "very good profitability" and have clearly been Go Student's trump card in its quest for new cash from a variety of investors, especially in a difficult environment for start-ups looking to raise funds.
"Being able to show that our core and most mature market is clearly profitable enabled us to convince a partner like Deutsche Bank that we were ready to take on debt", Felix Ohswald points out. And this despite a readjustment in growth last year, the discontinuation of "markets that weren't performing as well as others" and the redundancy of half its workforce, i.e. some 1,000 employees.
With their new fund-raising round, Go Student's executives are once again dreaming of unlimited growth. And with the rise of generative artificial intelligence, they predict profound changes not only in the edtech world but also in that of traditional education.